If you're in a swing state like me, you're being bombarded with campaign ads right around now. If you're like me, you're happy for the break from incessant football.
Burly men all jumping for a small ball as if millions of dollars hung on the outcome (oh wait it does) vs. men and women begging us to give them the power to be our fearless leader and completely control our lives. Oh yeah, election season is absolutely more nail-bite worthy than football. (Sorry, you may egg me now. :)
Are you a political junkie too? Or maybe you just like Super Bowl snacks and don't want to wait two months to have them. Solution: throw an election day party. Besides a TV to watch the election results come in, you'll need the following.
#1. Decorations. Red, white, and blue are always a good standby. You might even find some 4th of July decorations lingering on clearance. Also, find the most insulting political cartoons (insulting to the other candidate, not yours, of course) you can online and wallpaper the room with them.
#2. Food. This is an incredibly important detail. It can takes hours to find out who wins an election and you don't want to famish while you wait. Also, if your candidate happens to lose, you will need some especially delectable treats to bury your sorrows.
a.
Try for a red and blue theme to reflect the two political parties. If you're independent, you might want to throw in a bit of . . . is it green? You can make all kinds of margaritas, daiquiris, and other
cocktails
in red and blue. Strawberries and blueberries can garnish any plate. Cranberry juices and tomatoes also make great natural reds.
b.
If you serve cookies or cupcakes, you can write the candidates' names on them in icing.
c.
If your candidate has a favorite food, you could include that. Or keep it simple and just order pizza. Maybe bring out some American flags to tape over top of the pizza box labels. Hot wings or any other Super Bowl delicacy would be appropriate too.
#3. Election themed activities. No party's complete without some games. Oh and say the pledge of allegiance to start off. As much as you might hate the two-party system, nothing reflects our nation better than the right to free elections. (And say a prayer that not too much election fraud happens this cycle . . .)
a.
A U.S. Senate map is a must. Write the names of the competing candidates in all the swing states and then color them in red or blue as the results come in.
b.
Make a quiz to see how much your guests know about the election, the candidates, or American political history in general. Give out a prize.
c.
Make some kind of goody bags or fortune cookies complete with questions inside. See which guests know the answer.
#4. Invite guests. This will probably be the most difficult part. First, you need to find people as gung-ho about elections as you. (Quick Tip: Bribe them with food.) Second, you need to find people that won't hate you forever after reading all your political cartoons and seeing you screaming at the TV every time your candidate goes down in the polls. Choose your guests wisely; you might still want to have friends after election day.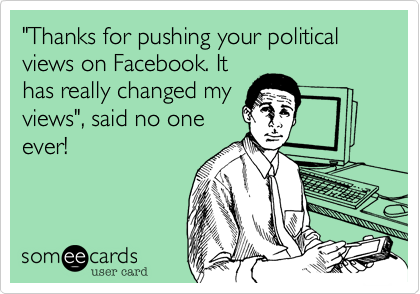 Any other tips for Election Day parties? Ever had one? Comment below.